"Vintage Stratocaster Saddles always chew up my hand when I palm-mute"
(Quote from a TGP forum member.)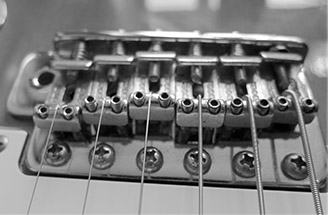 We all love our vintage guitars. But there is an age-old problem plaguing all Strat vintage
bridge Saddles: the protruding height-adjustable Saddle screws that hurt our hands.
No more!
---
Introducing:
HG Contoured Vintage Guitar Saddles
TM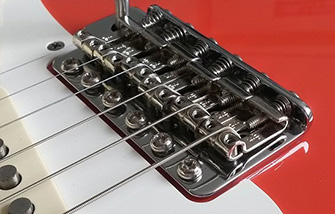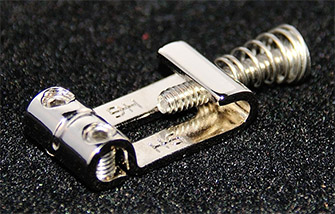 ---
Contoured you say? That's right. Meaning; without the screws sticking out the top of the Saddles. Our innovative Saddles are made from exceptional quality Steel and are nickel coated directly onto the steel body to provide you with pure vintage tone!
HG Contoured Vintage Guitar Saddles have more mass giving you longer sustain, clearer note separation and definition, improved harmonic response and touch sensitivity. These smooth feeling Saddles still retain a lovely vintage look.
Each HG Saddle set comes with stainless steel intonation and height adjustment screws and springs. An allen wrench is also included.
Please note: our Saddles are hardened, but not as much as some other brands. We have noticed that extremely hardened Saddles can change the tone of your guitar, sometimes making your guitar sound 'pingy'. That's because they add upper mid and high to your tone. We believe Leo got it pretty darn right.
---
How to choose the right Saddle for your guitar?
---
There are various shapes and sizes strat-type bridge Saddles.
We hope that the below information will serve you as a useful reference.
We have 3 sizes corresponding to different guitars.

Measuring & width recognition
---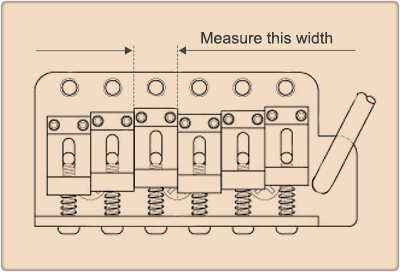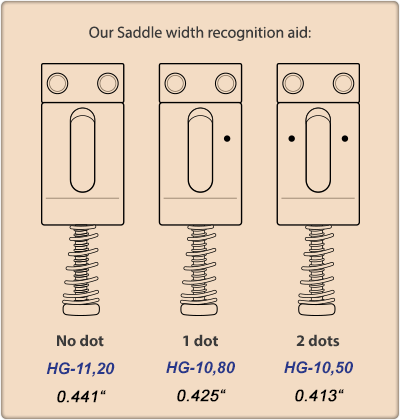 Measure one of your current Saddles with a digital caliper.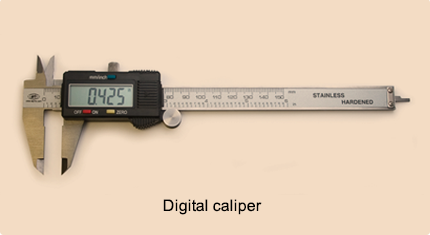 Please note.
It is important to be aware that some guitars do not have the correct size Saddles. You can see this when there are gaps between the 6 Saddles. If this is the case, you should check their width as described.
Also:
If the intonation screw hole is not in the center of your current Saddles then our HG Contoured Vintage Guitar Saddles are not compatible. Please contact us if you have any questions.